Garmin Forerunner 305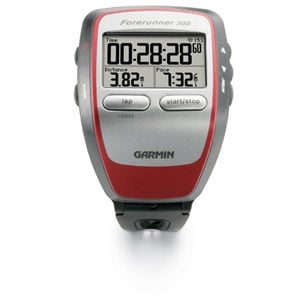 The Garmin Forerunner 305 is a GPS running watch.  By far this is the best piece of running equipment I own.  It does it all.  I totally mean that to.  It can act as a coach, running partner and a competitor.
Coach– Do you want to do intervals on the trails?  Fine, set the watch to beep every 1/4 mile and recover every 1/2 mile.  It will track and log this information as you go along.  Have plans to run a sub 6 minute mile during a long run.  Have the watch beep at mile 4 and there you have it.  Take off and the watch will let you know if you are running slower than a 6 minute pace with a friendly series of beeps.
Running Partner– Say you have a running buddy who pushes you pretty well through the miles.  They can't make it for a run.  Set your watch to keep you at a 7:15 pace for all 6 miles you run.  Do the same with the heart rate.  Don't want to creep into the higher thresholds that day?  Set it and it will let you know if you are getting too close to your target heart rate.
Race Competitor– This is the best part of this device.  I have a set course I run for my tempo runs.  What you do is this…run your course as a tempo.  Save the course into the device when done. 

On your next run, you will have 2 small stick figures on display.  One is the course record, the other is the current runner.  So by glancing at your watch, you will see yourself racing yourself.  It will even tell you have far ahead or behind you are.  I use this part of the device all the time.  Love breaking my own records on the trails!
When the run is all said and done, you can view your history.  This will show you each mile split, elevation change, fastest pace, slowest pace and much more.  You get instant feedback before heading home to the computer for the upload.

The Garmin Forerunner 305 can display all sorts of information.  Sunset, Sunrise, current pace, average pace, time of day, heart rate, average heart rate, miles, elevation, speed, calories burned and so many more.  At the end of the day, you just plug the Garmin into a USB and it will upload your running information into a viewable journal.  It's that easy.  Once uploaded, you can view it in a mapping format.  Not only can you see a map, but a summary of the run and graphs.  Check out the mapping format link to view my Trail Nut 10k race.   All that information from the Garmin.  Amazing!
It's a bit pricey, but it is well worth the investment.  The watch alone has helped me run a sub 6 minute mile on the trails.  Without it, well…I wouldn't even go for a run.